Flower Essences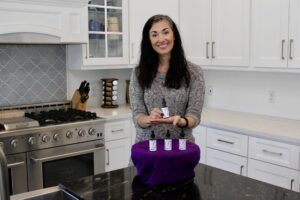 What are Flower Essences
"A simple and natural method of healing through the use of wild flowers. The remedies treat personality disorders of the person rather than the individual physical condition."
Flower essence remedies are made from a variety of plants, flowers, trees and bushes. Each remedy relates to a commonly experienced emotion.  The essences are electromagnetic forms of the flowers in which they are in the highest concentration of life force in the planet. They are tinctures of liquid consciousness.  They are created by floating the flowers on the surface of water for an hour or so. Similar to making a sun tea. The water becomes imbued with the harmonious flower essence of the flower.
Flower Essences were reintroduced in the 20th Century by Dr. Bach, Rudolph Steiner, and more. ***
"Flower essences are liquid, pattern infused, solutions made from individual plant flowers, each containing a specific imprint that responds in balancing, repairing and rebuilding manner to imbalances in humans on their spiritual, physical, emotional, mental or universal levels". Machalle Small Write
Flower essences are like tuning forks. The essence of the flower ingested enables the body to start vibrating at the frequency of the flower essence, bringing you back into balance with that particular healing characteristic.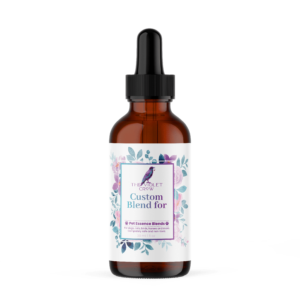 Custom Blends
"Treat the Patient not the Disease" 
You can start with pre-made blends or a Custom Made Blend.
I always recommend the custom blend because it will be tailor made for your pet.
I prefer to treat the whole animal not the symptom.
If you decide to start with the pre-made blends and you don't notice a difference within 2-4 weeks, I would recommend contacting me for the Custom Blend at that point.
We will meet via Zoom or I will send over a personality questionnaire to determine which blend will be right for you. Then I will mail you your custom blend and affirmations sheet for humans.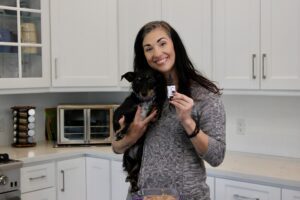 Pre-Blended for Animals
Flower essences can be used by humans and animals alike. Dogs, Cats, Horses, birds and more….. Yes! They are safe for pets and non-toxic. Flower essences work on the energy body, and have no potential for toxicity. There are no chemical components to flower essences other than the brandy which is used as a preservative. I make my blends with apple cider vinegar.
"Animals suffer from moods, in the same ways as human beings, and so indicate their state of health…" (Nora Weeks 1942).
Animals essences can assist with:
Anxiety
Fear Aggression after attacks.
Trauma after car accidents or bites from other dogs.
Assist with integrating into a new home or a new animal being brought into the home.
Lack of Confidence.
Acting-out (anger) like pulling trash out of garbage cans, peeing inside on purpose (because angry, knows not supposed to go there).
Obsessive behaviors like licking or scratching.
Hyperactive.
Animals that isolate and don't like  or afraid of the company of others, shy
and much more….
How quickly will I notice a difference? You can notice changes within 2-4 weeks, if this has been a long term chronic issue it may take longer.
                   
Pre-Made Animal Blends
Dixie Blend (Generalized Anxiety) – For animals whose fear is unknown. Uncontrollable shaking, ears and tail down, cowering, fearful from birth, who don't like anything new, who fear going outside, urinating from fear. Restores Courage. Aspen Flower Essence. 
Separation Anxiety Blend – For animals that won't let their owners out of sight, possessive of an owner, who create messes or become noisy when owners leave. Drain owners' attention, seeking attention. For dogs that urinate or defecate when owner leaves. Knocks trash out of trash cans, chews up belongings, digs holes or barks incessantly. Chicory, Heather, Star of Bethlehem, and Mimulus Flower Essences
Slow Your Roll Blend 1 – Fear Based Aggression – For animals that are easily annoyed and growl, raise hackles, bark, fear bite, training problems, learning difficulties, terror. Beech, Mimulus, Rock Water, Rock Rose Flower Essences. 
Slow Your Roll Blend 2 – Bully Type Aggression – For animals that are easily annoyed and growl, raise hackles, bark, bite or attach, territorial behavior, dominance, bullying, malicious or acting out of spite, were receiving end of physical violence or over-training. Restores Calm, tolerance, flexibility gentleness, positive leadership qualities, good temper. Beech, Rock Water, Vine, Willow Flower Essences.
Shy Blend – For the timid dog or cat that avoids crowds or people. Avoids strangers.    Clematis, Mimulus, Water Violet 
For the Pet Parent
Essences available for

How They Are Used
You receive a 1 oz bottle (approx. 2 weeks to 1 month supply)
4 drops 4 times per day (On food or Treats )
How they are Made
These are all handmade with love by me. The pet blends are made with flower essences, purified water and apple cider vinegar. I say a small prayer and send healing reiki shamanic energies into every bottle for you or your loved one.
Keep in Mind
These essences help clear the distortions from the psyche and the body.  This sometimes can take many months to clear especially if there's some deep psychological damage. (Emotional Healing for Cats by Stephan Ball & Judy Howard) My energy healing sessions can assist you with an additional support and clearing layers, as well. These remedies can be used to bring your animal back into alignment, one problem or imbalance, at a time. You may need to use these remedies like peeling layers off an onion until you get to the root imbalance.
Testimonials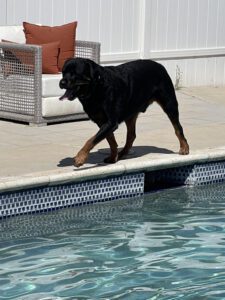 "I have a 5 year old Rottweiler that was showing aggression towards people, was reactive to any small animal that he came across, would jump on my small kids, and would run so close to people that I was afraid he would knock someone down. I started giving him the flower essence as directed. Within one week I was able to see a difference. He appears to be calmer and is responding better to me. I also started aggression training with him and I was able to see the difference when I give him the flower essence vs when I don't. I forgot to give him the flower essence on one occasion and he actually became aggressive towards the trainer. I just ordered a second bottle. I'm so glad I gave this a try!"   Silvia & Chop
They are a natural non-toxic product and do not produce side effects and complications so frequently associated with the use of drugs and other pharmaceutical products.
***All essences are blended from Bach Flower Essences
***(Some of this information was taken from my herb school 'Intro to Flower Essences' packet)
****This statement has not been evaluated by the Food and Drug Administration. This product is not intended to diagnose, treat, cure or prevent any disease.